With a three-day weekend and the unofficial end of summer looming, maybe you're looking for a good movie or two if you have time to kick back for a few hours.
We recently came across a spectacular 3D IMAX feature, National Parks Adventure, and a brutal Netflix drama, Beasts of No Nation, that take you to opposite emotional extremes… and deliver deeper understanding and appreciation of their subjects.
National Parks Adventure is a breathtaking visual feast filmed in more than thirty of the 400 U.S. national parks. Narrated by Robert Redford, the 43-minute documentary celebrates the parks' grandeur and beauty largely through the eyes and experiences of three daring explorers of natural wonders.
They include our good friend, world-renowned rock, ice and mountain climber Conrad Anker; adventure photographer Max Lowe, Conrad's stepson; and climber and artist Rachel Pohl. (Conrad is a director of the American Himalayan Foundation.)
The camera – often from stunning overhead angles via helicopter or drone mounts – follows them in mountain biking stunts in Moab, Utah; rafting the Colorado River near the bottom of the Grand Canyon, and ice climbing in minus-20 degree temperatures in Michigan's Upper Peninsula. And, there is Conrad soloing in a heart-stopping (for viewers) climb to the summit of 1,260-foot-high Devils Tower, pictured at top, in Wyoming. In the photos below: Rachel painting in Utah's Bryce Canyon National Park (left), and Conrad ice climbing in Michigan's Pictured Rocks National Lakeshore.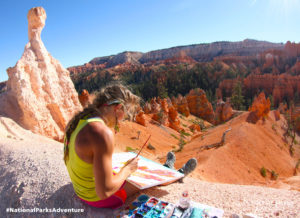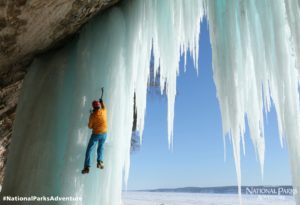 "I wanted to make a freewheeling film that captures the way the parks speak to adventurers, artists, athletes, and anyone who wants to challenge themselves physically, artistically and spiritually within," said producer Greg MacGillivray.
"Much of the best climbing in the U.S. is in national park sites," explained Conrad. "As climbers we really appreciate it and we feel an obligation to be stewards. The wonderful message of this film is that the wonders of our parks are approachable by anyone." Added Academy Award-winner Redford, "The national parks really represent nature being protected."
MacGillivray Freeman's National Parks Adventure was voted Best Giant Screen Film of the Year in 2016. An epic vision of conservationist John Muir that was championed by President Theodore Roosevelt, the National Parks system marked its centennial last year.
The film "leaves you breathless with a renewed appreciation for the wild beauty of nature," reviewer Caitlin Granfield wrote in the Miami Herald.
Natural Parks Adventure has been seen in 400 giant-screen theatres in 60 countries. It was playing this month in 18 IMAX locations in the U.S., including the Smithsonian Institution in Washington, D.C., and more in China, India, France, Canada, Japan, the Netherlands and other countries. Look here to find a theatre nearest you.
** **
Beasts of No Nation is a frightening tale about the life of a child soldier. This is fiction, based on the novel of the same title by Uzodinma Iweala. Yet the story is drawn from hideous reality, one that besieged thousands of poor African boys caught up in battles staged in stateless realms in recent decades by war lords grasping for wealth and power.
The charismatic, manipulative Commandant, played by Idris Elba, is a presumptive father figure, coaxing and intimidating a vicious militia. His arms-bearers are almost entirely adolescent and even pre-adolescent boys. Young Agu, a skinny eight years old, staggers into the clutch of this nightmare after his village and family are decimated. Played by Abraham Attah, Agu is the central figure. His descent into marauding barbarism is captured in these three photos.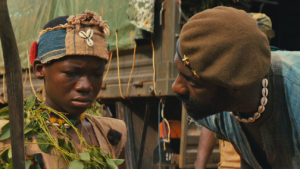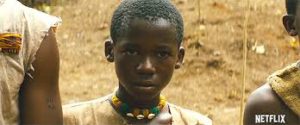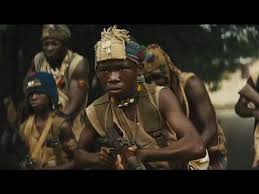 Terrified and isolated, then trained and motivated by the Commandant, Agu joins in the atrocities. He narrates at times in an eerie voice-over, speaking longingly of his mother, father, siblings and friends and their once-peaceful life together. Ultimately the tide turns. In a final scene, wearing clean clothes, speaking haltingly, in a barely audible voice, he says to an empathetic missionary interviewer, "I am…worried about my future."
"Seeing it for the first time on the big screen," reviewer A.O. Scott of The New York Times wrote, "I was caught up in the chaos of combat and the feverish pace of the story. But the second time, in the quiet of my house, I was struck by the hallucinatory, fairy-tale quality of some of the images and also by the sense that I was watching a character study rather than a topical drama."
He continued, "While the film, like the book, does not turn away from the atrocities they commit, it also doesn't allow you to forget that they're children."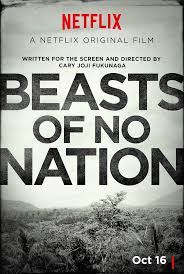 The novel's author, Uzodinma Iweala, is a son of Ngozi Okonjo-Iweala and her husband, Dr. Ikemba Iweala, a trauma physician. Dr. Okonjo-Iweala's lecture during the Brookings Blum Roundtable early this month was the subject of our prior two blogs. Uzodinma Iweala wrote Beasts of No Nation as a Harvard University undergraduate. He later completed medical studies at Columbia University, then returned to writing books and co-founded in Lagos the business publication he edits, Ventures Africa.
Iweala's novel, published in 2005, and the film, which premiered in 2015, portray in harrowing terms a key assertion at the beginning of An Accident of Geography: "Wherever poverty and ignorance continue to exist…the risk of more conflict and a more dangerous world will continue to threaten us all."
The film, with a running time of two hours, seventeen minutes, was directed by Cary Joji Fukunaga. He and Iweala collaborated on the screenplay. This was the first fictional feature distributed by Netflix, where it remains available to subscribers.
** **
Photo credits:  MacGillivray Freeman's National Parks Adventure; Netflix