In several welcome statements this month, the Group of 20 nations put on their agenda the principle we know as basic for fighting global poverty: creating greater opportunity for half the world's population. Girls and women.
It is well known – and worth repeating – that educating girls and providing economic opportunity for women are two of the most important steps developing countries can take to grow their economies, reduce poverty and raise the quality of life.
Urgent issues on the G-20 table in Hamburg, Germany earlier this month ranged from climate change and energy to anti-corruption and marine litter. Agreements were reached on fifteen.
Two pacts that caught our attention are commitments to greater opportunity for girls and women and advancing economic growth and development across Africa. Both developments were largely ignored in U.S. news reports.
We focus here on the G-20 statements on girls and women, and next week on Africa.
Consider these excerpts from agreements on empowering women (emphasis added):
Enhanced equal access to the labor market, property, quality employment and financial services for women and men are fundamental for achieving gender equality and full realization of their rights as well as a prerequisite for sustainable and inclusive growth.
We also commit to take further action to improve the quality of female employment and eliminate employment discrimination, and reduce gender compensation gaps and provide women with protection from all forms of violence.
We will improve women's access to labor markets through provision of quality education and training, supporting infrastructure, public services and social protection policies and legal reforms, where appropriate.
We launch the #eSkills4Girls initiative to promote opportunities and equal participation for women and girls in the digital economy, in particular in low income and developing countries.
We will establish a Business Women Leaders' Taskforce, which will… bring together business women from G-20 countries to examine ways to increase women's participation in the economy.
The spirit of these G-20 goals echoes broader principles that for more than fifty years have reduced poverty and helped local economies grow in Nepal and neighboring countries: education, safety and respecting the knowledge, wisdom and practices of local communities.
One example we highlighted earlier this year is the fabulous work of Dr. Aruna Uprety and the American Himalayan Foundation in the STOP Girl Trafficking project. More than 20,000 girls in the remote central mountains of Nepal have been kept safe from traffickers and in school since Dr. Uprety opened her first safe house in the mid-1990s.
The same principles that inform dozens of American Himalayan Foundation projects — education, safety, respect for local communities — were practiced by the late Sir Edmund Hillary in his humanitarian work in Sherpa communities near Mount Everest. To fight poverty, Sir Ed believed, you have to walk the villages.
A humble man, Sir Ed created his Hillary Trust in 1960, seven years after he and Tenzing Norgay became global celebrities as first climbers to reach the summit of Everest and return, and two decades before he became our dear partner, adviser and an inspiration in Nepal with the American Himalayan Foundation. On July 20, we celebrated with gratitude his 98th birthday.
"I was brought up to believe that if you had a chance to help people worse off than you, then you should do it," Sir Ed once said. "When I look back over my life, I have little doubt that the most worthwhile things I have done have not been standing on the summits of mountains or at the North and South Poles, great experiences though they were. My most important projects have been the building and maintaining of schools and medical clinics for my good friends in the Himalaya–and helping with their beautiful monasteries, too."
The new emphasis in this year's G-20 Leaders' Declaration reflects the larger influence women have now in shaping and drafting the G-20 agenda. An influence long overdue.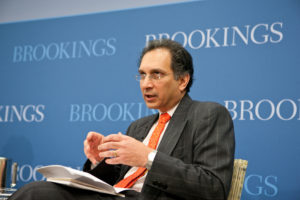 To be sure, the G-20 is an effective alliance. Progress is happening on many of those issues addressed in Hamburg. As our friend Homi Kharas of Brookings wrote last week, independent researchers at the University of Toronto concluded that 80 percent of commitments from the 2016 summit were met on average. That's encouraging. The study encompassed more than two hundred commitments.
U.S. scores, however, were disappointing. They were "dragged down by poor compliance on fossil fuel subsidies, climate change, and e-commerce," Dr. Kharas, pictured here, says. He added that the U.S. did much better in most other areas, including energy efficiency, financial sector reform, international taxation, and investment promotion.
** **
Differences between the U.S. and other G-20 leaders made headlines this month in U.S. news reports, yet in the big picture beyond those headlines there was broad agreement.
"In reality, many of these results look mundane, even boring," says Dr. Kharas, "yet the 'boring' parts of the agenda have continued to make progress, even though they do not make for good headlines. That's a tribute to solid bureaucratic work that continues behind the scene."
"The U.S. came across … as a country with no substantive, positive agenda," he concluded, yet the U.S. "is still the only country with the power to take leadership in the near term."
What actions should the U.S. take in G-20 gatherings in the next few years? Says Dr. Kharas:
"It must move away from the distractions of no-win fights on trade and climate and get back to leading other countries in shaping solutions to global problems."
Photo courtesy of Brookings Institution.