U.S. foreign economic and development policies have been crafted since 1945 to advance three national interests: keep America safe, grow American and global prosperity, and represent American values.
Should the current balance among these objectives be altered to reflect a changing world? Moreover, should the U.S. continue to take the lead on global development issues? And, if so, how?
These are a few of the urgent questions queued up for an important conference next month about prospects for U.S. development assistance in the Trump era.
It's the 14th annual Brookings Blum Roundtable on Global Poverty, an invitation-only assembly of some of the best scholars and government administrators in Washington and creative leaders in business, philanthropy, non-government organizations and other private groups.
The aim of these sessions is ambitious: to identify policies, practices, and ideas that will speed the pace of innovation and advance groundbreaking initiatives to alleviate global poverty.
The last Congress exhibited broad, bipartisan consensus on economic assistance, passing eight supporting bills. Yet looming debates in forging the fiscal year 2018 budget raise many uncertainties. How many programs approved for FY 2017 will continue once next year's federal budget is set? Which budget cuts would be most problematic for U.S. national interests? Which would be beneficial?
This summer's Roundtable, hosted again by the Aspen Institute, will examine areas of development assistance that are most vulnerable; whether reforms or other funding sources could mitigate the risks; and what policy and advocacy opportunities could minimize damage and strengthen U.S. economic development assets.
The photo above was made during the 2016 Roundtable, which examined the future of work in the developing world. Here are a few highlights from Brookings' summary report.
Labor markets everywhere are changing dramatically as a consequence of technology and globalization. These disruptions create new groups of winners and losers, and they are growing in intensity.
Where will the jobs come from? Half the children born in, say, 2020, might never have a job at all. Workers in the future might increasingly go it alone as freelancers or small business owners, but those occupations won't be a good fit for everyone.
What kinds of skills will be needed? Who will provide them? Private business could provide many of the most important skills, but the toughest problems will be what to offer and how to support students and workers who fail.
What about labor market security? Unemployment and disability insurance were designed to reduce risk for workers, but these safety nets are frayed. Can universal basic incomes fill the widening gap?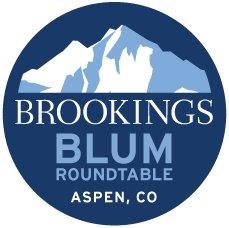 We're pleased and grateful that Roundtable proceedings over the years have helped initiate or further energize collaborations on several advances in global development. That, after all, is the impact Strobe Talbott, Brookings' president and former U.S. Deputy Secretary of State under Bill Clinton, and I aimed to achieve when we established the format shortly after Strobe became president of this highly respected policy institute in 2002. (He announced early this year that he is stepping down in October.)
Some examples of the Roundtable's influence and impact:
Blended financing. Development funds traditionally were provided separately by various sources: private businesses, government agencies, charitable organizations, and so on. This was cumbersome and inefficient, especially for organizations requesting the funds.
"If you want to solve a development program, you need to understand the policy environment and you need to put together entrepreneurs, aid agencies, and multilateral banks," says Homi Kharas, a senior fellow and co-director of Brookings' Global Economy and Development program.
One example is Power Africa, a program in sub-Saharan Africa, where more than six hundred million people have no access to electricity. Perhaps President Obama's most important aid program, it was organized through USAID and partners such as the World Bank, the African Development Bank, and the government of Sweden. Purpose: to bring electric power for the first time to sixty million homes and businesses.
Championing smaller projects. You can achieve transformational change in many ways in poor countries. Once favored megaprojects, such as hydroelectric plants or oil-and-gas drilling and production, often require many years and billions of dollars to complete, which makes them more vulnerable to corruption.
Smaller projects such as lower-cost solar power are easier to finance and manage. They can begin operations much faster and in ways local people more easily understand, appreciate, and support.
Philanthropy and Development. Discussions at the first Roundtable in 2004 noted the important role that private philanthropy could play in global development, but did not anticipate the outsized role it now plays, including through the world's largest philanthropic group dedicated to fighting poverty, the Bill & Melinda Gates Foundation. Major development implementers based outside the U.S. have also expanded in scope and size, among them the Aga Khan Development Network (AKDN) and BRAC.
AKDN is a vital supporter of education, economic development, health care, and culture restoration in thirty countries. Last month, the network contributed 500,000 euros to help victims of a horrific wildfire that killed sixty people and injured more than two hundred in Portugal.
BRAC (formerly Bangladesh Rural Advancement Committee) has programs in microfinance, education, health care, and other services in eleven countries, reaching 135 million people.
Brookings will publish materials from this year's Roundtable early in August and a summary report no later than January 2018. Look for details on the Roundtable pages of Brookings' website.
** **
Photo credit: Alex Irvin