We're delighted to share this week important insights from Ngozi Okonjo-Iweala on technology's value in advancing global development.
Dr. Okonjo-Iweala, chair of GAVI, the Vaccine Alliance, is one of the great champions for improving lives of the poor. Twice Nigeria's finance minister, a former managing director and one of three candidates in 2012 for the presidency of the World Bank, she is a development economist and author with more than thirty years of courageous leadership in fighting poverty.
This post is the first of two adapted from Dr. Okonjo-Iweala's remarks for the fifth annual Madeleine K. Albright Global Development Lecture. She spoke to a full house at the Aspen Institute on August 3 during the 14th annual Brookings Blum Roundtable on Global Poverty. 
** **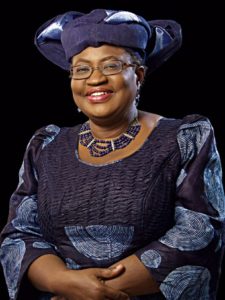 Despite the potential benefits technology can offer, breakthroughs historically often had a negative impact on poor people. Since the industrial revolution, if technology wasn't putting people out of work, it was endangering them through hazardous working environments or long-term exposure to pollutants.
It is true that technology is still displacing the working poor in many countries. But it is also true that a global shift is underway with new technologies radically improving the quality of life for millions of the poorest people. These innovations are springing up all over the world, pushing the boundaries of what is possible.
Let's look at two fields: renewable energy and identity verification systems.
**
Renewable energy. From solar-powered fridges appearing across Africa to keep medicines and vaccines safe, to Prime Minister Narendra Modi's commitment to generate 40 percent of India's energy through solar by 2022, the need for clean off-grid and on-grid energy solutions particularly in Africa is spurring development.
New markets are providing a much needed impetus for the renewables revolution in energy-deficit nations. We all stand to benefit. Renewable energy sources currently reach more than 100 million people and account for more than 22 percent of global energy production, a figure the International Energy Agency projects will reach 26 percent in 2020. Two-thirds of this growth will be in developing countries.
For example, the Netherlands-based start-up that I co-chair, Lumos Global, markets an off-grid solar system in Africa's most populous country, Nigeria, that is designed for small-and-medium scale enterprises. The package includes a mobile payments application through a partnership with Nigeria's leading mobile-phone operator, MTN. Customers are able to pay for electricity as they go, using mobile-phone credits at a cost of less than fifty cents per day.
This is so important because it gives business owners in rural and outer-urban areas hope that they can operate more efficiently, with higher productivity and lower costs, create jobs and strengthen their families and communities.
More than half of the 1.2 billion people in Africa have no access to electricity, and 70 percent living in sub-Saharan Africa. But this is changing.
More access each month to inexpensive, off-grid electricity enables more children to study at night, welders and carpenters opportunities to work steadily through the day and earn better incomes, women to purchase appliances and leave back-breaking household work behind, and health workers to store larger supplies of vaccines urgently needed in their communities. The photo above shows a Nigerian family enjoying an electric fan and lighting at night powered by a Lumos system.
**
Identity verification. One in three children in the world under the age of five has no official record of their birth. This is a major problem. With no legal status, these children often are denied access to education, health, and the ability to vote as they grow into adulthood. Archaic paper-based methods used to certify births, deaths and marriages in poor countries make it too easy for people to slip between the cracks.
But what if we could use vaccination cards as de factor identity cards? Today, 86 percent of the world's children are getting routine immunization and have vaccination cards – more children than have birth certificates. One project called MyChild is doing precisely this, attempting to reach even more children by helping countries transition from paper to digital.
At first glance it looks like a typical paper booklet for workers to record a child's basic healthcare progression such as vaccinations, de-worming, or nutritional supplements. But each booklet contains a unique identification number plus tear-out slips that are collected and can be scanned later. Even if a child's birth hasn't been registered, the vaccination card provides a unique digital record that will follow them through childhood.
Developed by Swedish start-up Shifo, the MyChild system has been used to register more than 95,000 infants in Uganda, Afghanistan, and the Gambia, enabling health workers to follow up either in person or through using text reminders to parents.
The biggest identity project of all time is India's transformational Aadhaar biometric ID system. It features the simple mechanics of scanning a person's finger or an iris, then assigning each person a unique ID number. In seven years, 90 percent of India's 1.3 billion people have been brought into the fold, setting the stage for the Modi government to modernize India's social safety net and subsidy systems. Millions of poor people potentially can be targeted more directly, providing them access to services previously unavailable. Several police officers in this photo are queuing up for Aadhaar processing.
The Aadhaar system is also a platform for digital payments, and, perhaps, a system for delivering payments as a universal basic income … should India's government one day embrace that policy.
What is clear now is the Aadhaar system has given India more tools for delivering development solutions that eradicate poverty.
An even bigger lesson, in each of these examples: While technology is helping to drive development, development is also helping to drive technology.
** **
To learn more about Dr. Okonjo-Iweala and the urgent quest for global identity services, read Gillian Tett's August 11 Financial Times column.
Photo credits: Lumos Global; GAVI, the Vaccine Alliance; and the Unique Identity Authority of India.