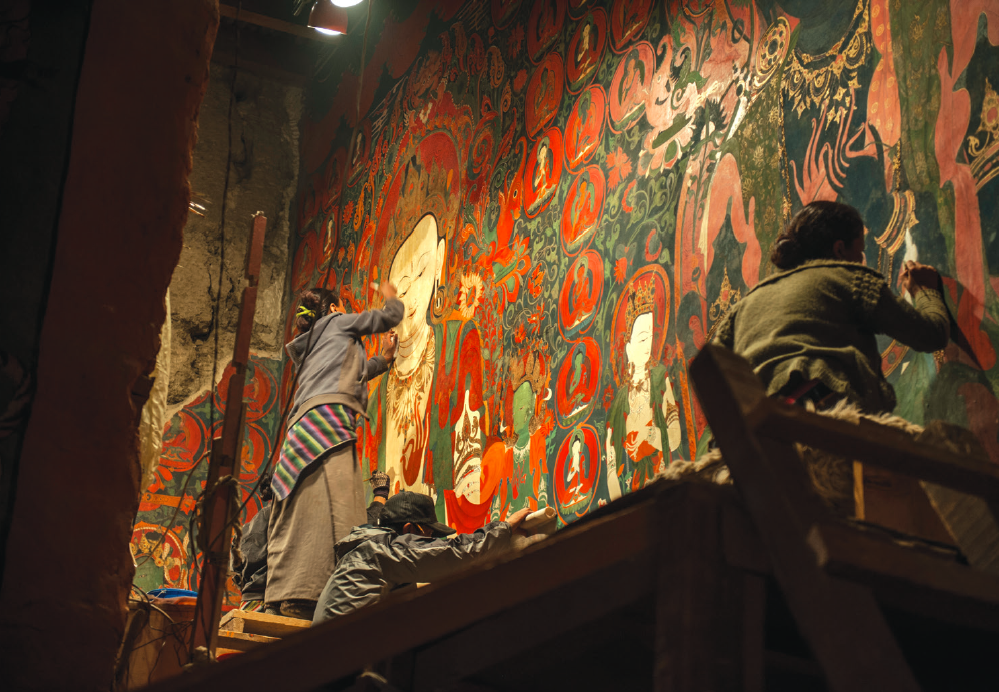 In an era when Tibetan Buddhist culture has been under assault, at times brutally, by the Chinese, the Mustang restorations in Nepal may prove to be of even greater historic and cultural significance than we expected.
When bright images of hundreds of sacred deities neared completion a few years ago thanks to the art restorers' painstaking skill, monks re-consecrated the temples of Thubchen and Jampa. Villagers resumed daily rituals of prayer and worship most had long abandoned, or never experienced.
The nearby monastery is thriving. About one hundred monks now live in LoMontang, including students from as far away as India. Think about that: young people today are migrating to the once-failing community, not trailing away as they had for decades.
In other Mustang hamlets, more monasteries have been revived as cultural beacons central to the daily lives of their communities. We support three of the seven monastic institutions in Lo, including a nunnery teaching hundreds of young women and girls.
Guided by Italian artist and restoration expert Luigi Fieni, three dozen Newaris and Lobas living in or near LoMontang have for nearly two decades been rescuing exquisite wall paintings in two temples and a monastery. (See photo above from 2008.) We are incredibly happy to have helped achieve the vision of the late Raja Jigme Bista. The dream he shared with us when we met a quarter century ago was to nurture a spiritual and community reawakening across the kingdom of Mustang.
His Holiness the Dalai Lama says conservation of religious art, artifacts and monasteries is "very, very important" to Tibetan Buddhism's future. When you stand as I often have before the restorations in LoMontang, and observe how the accessible, vibrant images of sacred deities inspire people there, you can only nod in agreement.
"Our main concern," His Holiness has said for many decades, "is preservation of our identity."
The benefits now shared by villagers we greet as friends each year have been especially rewarding. For example, more than sixty artisans have mastered the crafts of painting Buddhist deities or structural restoration.
"Learning these new skills means a lot to me," said one of the artisans, Tsewang Jigme, thirty-two years old and father of three children between the ages of seven and thirteen. Known as Jojo to his family and friends, he worked for two years rebuilding a failing temple structure as an unskilled laborer, then learned the demanding skills required to paint sacred deities.
The work in the monastery and temples is "spiritually more fulfilling," he said. "When people come to the gompa now, they say it is more chi lap chay (blessed and sanctified). We have a great amount of respect in the community. They say of us that we are the ones who 'paint God.' Had I not been trained and employed on the project, I would be either a farmer or a migrant laborer working overseas."
Other humanitarian projects we pursued beyond the temple and monastery walls deepened our appreciation of traditional Tibetan culture in Mustang – and the villagers' trust in us. All were requested by local communities. Here are some:
A child-care center in LoMontang for parents working on restorations.
Funding seven Tibetan language and culture teachers in local government schools, six health clinics that provide year-round staffing and medicines, mobile health camps and vaccinations, and fifteen day-care centers across Mustang that give 250 kids a safe place to play, sing, dance, learn their alphabets in three languages, and brush their teeth.
Irrigation to reduce flooding of small creeks in several villages.
Funding for ethnic Loba students who live and study together in Jomsom, several miles south of LoMontang nearer Dhaulagiri in the Annapurna range, until they graduate from high school.
Looking back, we believe our Mustang work offers key lessons for global development. Effective development requires walking the village, respecting local culture, and helping provide basic resources people tell you they need to improve their lives. Once you commit to these fundamentals for the long-term, you create potential for wondrous human connections, connections that can touch your soul.
The video clip below introduces the fascinating PBS documentary narrated by Richard Gere, Mustang: Journey of Transformation. The full 30-minute program about the Mustang restorations is available for purchase from PBS.

To learn more about artwork restorations and improving living conditions in Mustang in recent years, please visit the American Himalayan Foundation's Cultural Revival blog.
Photo by Luigi Fieni, courtesy of the American Himalayan Foundation.
Save
Save
Save
Save
Save
Save
Save
Save
Save
Save
Save
Save
Save
Save
Save
Save
Save
Save